Corban Alumni Awards
Corban takes pride in equipping its graduates with a bible centered education, training, and service so they can make a difference in the world for Jesus Christ. With these tools, countless alumni have gained unique distinction in their professions, ministries, and communities. It is our pleasure as a university to recognize and celebrate these achievements.
2019 Distinguished Alum of the Year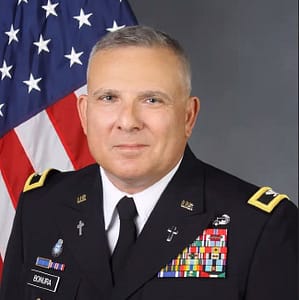 Col. Dean Bonura ('78)
Corban University is pleased to announce Colonel Dean Bonura as this year's Distinguished Alumni Award recipient!
Col. Bonura, who graduated from Corban University (then Western Baptist) in 1978 with a bachelor's in ministry, has had a distinguished 35-year career in the U.S. Army, including 30 years as a chaplain on active duty.
Col. Bonura has served in the 101st Airborne (Air Assault) Division, the 3rd Infantry Division (Mechanized), the 2nd Armored Cavalry Regiment, and the 1st Armored Division, with whom he deployed to Iraq in 2003-2004.  He also served with the 1st Corps Support Command during Operation Desert Shield in Saudi Arabia and Operation Desert Storm in Iraq (1990-1991).
As a chaplain, Col. Bonura experienced the impact of combat on men and women, and worked with countless individuals to provide support and help facilitate healing in the midst of Post-Traumatic Stress Disorder (PTSD).
In response to his experiences, Col. Bonura authored the book Beyond Trauma: Hope and Healing for Warriors: A Guide for Pastoral Caregivers on PTSD, which was published in 2016 by Westbow Press, a division of Thomas Nelson and Zondervan (recently republished through The Warrior's Journey, an online resource for military, veterans, and their families). Col. Bonura's book addresses the importance of biblical spiritual principles in the healing process, and emphasizes that the spiritual side of trauma cannot be ignored as individuals seek healing from grief, guilt, and shame. He's also written a program based on the book called "Strong Heart Warrior."
Col. Bonura has also written sermons and articles for other publications, including "Spiritual Patriots" in the anthology Be Strong and Courageous: An Anthology of Sermons to Warriors and "Combat Trauma, Resiliency and Spirituality" for The Army Chaplaincy, professional bulletin of the unit ministry team. In addition, Col. Bonura currently writes for The Warrior's Journey (for which he also serves on the board of advisors) and has authored four discussion guides, the latest of which is for the film "Indivisible," based on the true story of Chaplain Darren Turner.
Col. Bonura has received multiple awards, including the Legion of Merit, the Bronze Star Medal, the Defense Meritorious Service Medal, the Meritorious Service Medal with eight oak leaf clusters, the Noble Patron of Armor award, and the Chapel of Four Chaplains Legion of Honor award.  He is also a life member of the Veterans of Foreign Wars.
In addition, Col. Bonura earned his Doctor of Ministry from Gordon Conwell Theological Seminary. He and his wife Denise have five grown children, three of whom have served in the military.
Dr. Jim Hills, Professor of English at Corban University, says of Col. Dean Bonura, "'Making a difference in the world for Jesus Christ' covers a lot of ground. In Dean's case it has meant putting himself in stressful and lethally dangerous circumstances to offer Christian wisdom, comfort, and healing to men and women serving our nation."
Join us in congratulating Col. Bonura and thanking him for his service to our nation and the men and women who so faithfully protect it.
Learn more about Corban's Alumni Awards! Nominations are accepted on a rolling basis, with awards given in two categories – Young Alumni and Distinguished Alumni. Submit a nomination here.
2019 Distinguished Young Alum of the Year
Kayli Hanley ('14)
Corban University is excited to announce Kayli Hanley as the recipient of our Young Alumni Award for 2019!
Kayli graduated from Corban in 2014 with a Bachelor of Science in Communication. Even before she graduated, Kayli began utilizing her gifts in communications and public speaking as she served on the student newspaper and yearbook staff, interned with Corban's advancement department, and engaged in several public speaking events for the University, including the Scholarship Luncheon.
After graduation, Kayli applied for a communications coordinator position with the Oregon Cattlemen's Association (OCA) and was hired. During her time there, she was promoted to director of communications and oversaw both internal and external communications for the organization.
After serving at the OCA for almost two years, Kayli moved to Phoenix, Arizona, where she accepted a position as copywriter and content specialist at Ewing Irrigation & Landscape Supply. Several months later, she was promoted to public relations specialist. During her time there, she wrote blog posts and feature articles, developed marketing campaigns, planned events, and created web content to promote the organization and its products.
In January 2018, Kayli accepted a position with Mayo Clinic as a communications associate. In 2019, she was promoted to the communications specialist. Her responsibilities include helping develop and execute communication plans and serving as the digital editor for Mayo Clinic Magazine.
Kayli's writing and public relations skills have garnered several awards and accolades, including the 2017 TOCA Merit Award (Turf and Ornamental Communicators Association) and the Copper Anvil Award from the Phoenix chapter of the Public Relations Society of America for her work in planning, improving, executing, and facilitating a professional development and networking event (2017).
Kayli has also demonstrated a commitment to service and volunteerism, having served as an active member of her church in children's ministry and other areas, and with her community's Make-A-Wish chapter. She is also an avid equestrian, and enjoys riding her Quarter Horse, Skeeter.
Kayli is married to Corban alum Jarred Hanley ('12, Health Science), and they both live in Arizona with their dog, Lady. Jarred is a DMD Candidate at the Arizona School of Dentistry and Oral Health.
Dr. Marty Trammell says of Kayli, "Many young alumni deserve this award, but Kayli's compassion, professional accomplishments, and efforts to make a difference in the world for
Jesus Christ epitomizes what the Bible means when it employs the word 'Corban.' Her marriage, family life, and professional efforts regularly demonstrate her dedication to God."
Lacy Ravencraft, a Marketing Project Manager for Northern Arizona University, says this about Kayli: "She is humble, gracious, intelligent, hard-working, and committed. She puts her family and faith first, and supports others through her faith in good times and turbulent ones. Her resolve in maintaining her faith and a positive attitude is truly inspiring."
Join us in congratulating Kayli Hanley for her well-deserved receipt of this award.
Distinguished Alumni of the Year
Distinguished Young Alumni of the Year
Award Criteria
The true measure of a university's greatness can be found in the achievements of its alumni. Corban University is globally known to develop leaders in many fields of endeavor who are making a difference in the world for Jesus Christ. A vast number of the University's alumni have gained unique distinction through success in their professions, service to the University, and contribution to their communities. The University established the Distinguished Alumnus Award program to honor outstanding former students and to celebrate their achievements.
Eligibility & Requirements
You may not know if your nominee meets all the criteria below. It is still okay to submit your nomination.  We will take care of confirming the following:
Is an alum of Western Baptist Bible College, Western Baptist College, Corban College, or Corban University, having attended at least 4 semesters.
Must demonstrate support for the mission, goals, and purpose of Corban University.
Must demonstrate standards of ethical and personal conduct in concert with the values of Corban University.

https://www.corban.edu/about/mission-and-values/

May be nominated as an individual or as a married couple if both spouses are eligible alumni.
Alumni cannot nominate themselves, and nominees cannot be current faculty and staff.
Must be in good standing with the University.
Nomination and Selection Procedure
Submit a nomination by March 15.
You will be asked to list two references who know the candidate well and can vouch for their character and competence, as well as attach a one-page letter of recommendation explaining why you believe the alumnus meets all the above criteria and is making a significant impact in the world for Jesus Christ.
Screening Process Outline:
The Alumni Awards Screening Committee will:

Verify eligibility
Solicit letters of recommendation from references provided.
Request biographical information from the nominee.
Present screened applicants to Alumni Awards Selection Committee

The Alumni Awards Selection Committee will:

Receive submitted references of verified candidates
Rank nominees into the top 3 candidates for each award based on a rubric that parallels our University mission and values https://www.corban.edu/about/mission-and-values/ in addition to letters of reference.
Recommend top candidates in both categories to Director of Alumni Relations.

Award recipients will be first notified by a personal letter from the President via direct mail. Formal announcements will follow in the month of August.
Applications submitted after the deadline will roll over and be considered for the following year's award ceremony. In addition, eligible nominees not selected for an award will also be rolled into the following year's selection process.
Award Categories
Distinguished Alumni of the Year
Nominated no earlier than 10 years after graduating or leaving the University
Distinguished Young Alumni of the Year
Nominated within 10 years of graduating or leaving the University
Honorees maintain these distinctions in perpetuity, though the award may be rescinded if the awardee no longer meets the eligibility requirements.
Alumni Award Nomination Form
Thank you for your interest in nominating a fellow Warrior! Nominations are accepted year-round and will be filed for the next academic year. Visit the Alumni Award Criteria tab for detailed information on the qualifications for the various awards.